COMMANDER BOB FABIEN ZINGA
N1 Head, NR COMPACFLT MOC DET 601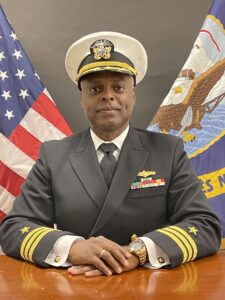 CDR Bob "BZ" Zinga, a resident of San Jose, CA, is a graduate of the University of Maryland University College (UMUC) in Adelphi, MD, where he earned a Master of Science degree in Management: Naval Operations & National Security and a Master of Business Administration (MBA). He is also a graduate of the University of Alabama in Tuscaloosa, AL, where he received a Bachelor of Science degree in Chemistry: Biology.
He started his Naval career in 2004 in the Reserve as a Seaman Recruit at the Recruit Training Command, Great Lakes, IL. In 2007, Information Systems Technician Seaman (ITSN) Zinga was promoted to Information Systems Technician Third Class Petty Officer (IT3) at NOSC Bessemer, AL. Later the same year, he received his naval commission at Direct Commission Officer (DCO) School in Newport, RI.
He holds a Premier Certificate in Cybersecurity: Managing Risk in the Information Age from Harvard University, Cambridge, MA; a Graduate Certificate in Knowledge Superiority from the Naval Postgraduate School (NPS), Monterey, CA, a Diploma in Joint Professional Military Education (JPME) from the Naval War College (NWC), Newport, RI, and DAWIA Information Technology Level I, II, and III certifications from the Defense Acquisition University (DAU), Fort Belvoir, VA. He is currently pursuing a professional CIO certificate from the National Defense University (NDU), Fort McNair, DC. CDR Zinga holds several technical certifications, including Payment Card Industry (PCI) Qualified Security Assessor (QSA), PCI Professional (PCIP), Project Management Professional (PMP®), Certified Information Systems Security Management Professional (CISSP®-ISSMP®), Microsoft Certified Trainer (MCT), and Certified Ethical Hacker (CEH)- to name a few.
In 2009, He served as the CTF 76 Knowledge Management Team Lead for Talisman Saber 2009, a biannual training exercise designed to train Coalition Forces to plan and execute Combined Task Force operations to sustain combat readiness interoperability.
From March 2008 to February 2011, LTJG Zinga served as the N7 Department Head for Amphibious Squadron Four Detachment 409 at NOSC Bessemer. He earned his qualification as an Information Warfare Officer, becoming a "plank owner" in the newly stood up Information Warfare Community, formerly known as the Information Dominance Corps, in October 2010.
In March 2011, LTJG Zinga was transferred to the OSU unit, NOSC San Jose, where he served as the Executive Assistant until his promotion to LT on 01OCT2011. From 2011 to 2014, LT Zinga qualified as Information Professional Officer (Intermediate qualification, AQD GA2) at the Naval Postgraduate School and earned JPME Phase I credit at the Naval War College at Monterey (AQD JS7).
Upon his next assignment as the N7 Department Head for NR SPAWAR 220, NOSC San Jose, CA in April 2014, LT Zinga increased unit GMT compliance from 49% to 96% by the end of FY-14, and eventually to 100% by the end of FY-15. While assigned to NR SPAWAR 220, LT Zinga worked as an Evolution Team Lead, OIC equivalent, for five SPAWAR Reserve Programs (SRP): Network Operational Support Team (NST), NST Virtualization (NSTv), Computer Network Defense (CND), Collegiate Cyber Defense Competition (CCDC), and Configuration Validation (CONVAL). Specific achievements include: leading up to 20 SRP sailors to deliver nearly 3,600 man-hours of training to 102 Fleet sailors across 23 commands. Planning required over 130 hours across multiple commands and saved the Navy over $35K in transportation and berthing costs. His leadership resulted in qualifying 25 technical instructors, 71 VMware Certified Associates (VCAs), 3 VMware Certified Professionals (VCPs), and 7 CompTIA Security+ certified professional for a savings of over $400K versus the equivalent commercial training.
In July 2015, LCDR(Sel) Zinga was hand-selected to help lead both the SRP CND and CCDC programs as the Deputy Program Manager (DPM). In November 2016, he was promoted to the SRP Program Manager (PM), a CO equivalent billet, for both the CND and CCDC programs. As a PM, LCDR Zinga led 79 reservists in maintaining Fleet Cyber Readiness for 59 ships in 10 Fleet concentration areas with a $501,000 budget, resulting in 7,231 hours of direct operational support (the highest among 16 SRP programs). In September 2016, LCDR Zinga was awarded Subspecialty Code (SSC) 6208S: Cyber Systems & Operations based on significant military and civilian cyber experience. In September 2017, LCDR Zinga renamed the SRP CND program to Defensive Cyber Operations (DCO) to better aligned with DoD-wide updated cyber initiatives.
In April 2018, LCDR Zinga was selected as the US Navy Reserve Operational Level of War (OLW) Community of Interest (COI) Department Head for plans (Doctrine), providing up-to-date status of OLW doctrine and monitoring for emerging naval concepts, potentially leading major initiatives concerned with updates to the Maritime Operations Center (MOC) standardization manual.
Upon his next assignment in July 2018, LCDR Zinga was selected as the N1/N6 Department Head of NR COMPACFLT INTEL 0419. He led a team of 12 Sailors in providing administrative support to the Commanding Officer. In October 2019, LCDR Zinga was hand-selected to serve as the Executive Officer (XO), and later Chief of Staff (CoS) for the forty member unit providing qualified officer and enlisted personnel support of Commander Pacific Fleet operational requirements, afloat and ashore, and maintaining a high state of readiness for augmentation to the supported command and all subordinate elements of Naval operations in specified contingencies, exercises, and combat operations as directed. As of March 1, 2021, CDR Zinga current assignment is as the N1 Head of NR COMPACFLT MOC DET 601, San Diego, a 66 member unit providing operational support to the COMPACFLT Maritime Operations Center (MOC) or Title 10 Fleet HQ Element.
Personal awards include the FY19 COMNAVIFORES National Junior Officer of the Year (JOY) award, Navy and Marine Corps Commendation Medal (two gold stars), Navy and Marine Corps Achievement Medal, Naval Reserve Meritorious Service Medal, National Defense Service Medal, Global War on Terrorism Service Medal, Military Outstanding Volunteer Service Medal, and the Armed Forces Service Medal.
In addition to his reserve commitments, CDR Zinga worked as the Campus Liaison Officer and Senior Information Systems Security Engineer for the University of Alabama, Tuscaloosa, until February 2011. He then served as the Director for Cybersecurity & Privacy for the Defense Language Institute Foreign Language Center at the Presidio of Monterey, Monterey, CA, until March 2014. Later that year, he moved to the San Francisco Bay Area to accept a position as the Senior Information Security Engineer for Pivotal Software Inc. The global leader at the intersection of big data, Paas, and agile development based in Palo Alto, CA. In June 2016, CDR Zinga then served as an Information Security Manager for Groupon, Palo Alto, CA (NASDAQ: GRPN), the global leader of hyper-local commerce, offering consumers a vast mobile and online marketplace to discover and save on unbeatable local deals worldwide. In May 2017, CDR Zinga served as the Director of Security Program Services at Truvantis, Inc., acting as the virtual CISO for small and mid-sized companies, leading to holistic, world-class information security expertise while balancing security practicality, and cost. In March 2019, CDR Zinga accepted a position as the Head of Security at Directly, the leader in support automation, helping enterprise companies launch and train virtual agents to double their automation rate.
CDR Zinga serves as a Board Advisor for United Cybersecurity Alliance, a global non-profit organization in the business of transforming the "Faces of Cybersecurity" by creating unique opportunities for women and minorities to join the cybersecurity field.  Bob also serves as a Board Director for AZ Cyber Initiative, a leading innovative non-profit 501c(3) corporation dedicated to developing the next generation of Arizona cybersecurity professionals, capable of exceeding the expectations of the evolving digital workforce of the future.  He has served as a Board Director of the Westmount Community Association, Board Manager of the Central YMCA, and Industry Advisor Board Member for Catalyst Operating Advisors in the San Francisco Bay Area, CA, where he lives with his wife Demetria, two daughters, and exuberant Shih Tzu.