COMMANDER BOB FABIEN ZINGA
N1 Head, NR COMPACFLT MOC DET 601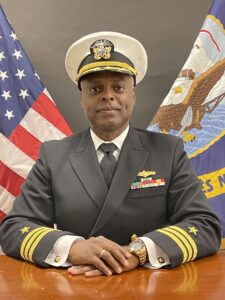 CDR Bob "BZ" Zinga is a resident of the San Francisco Bay Area, CA. He graduated from the University of Alabama, Tuscaloosa, AL, with a Bachelor of Science in Chemistry: Biology. He earned two Master's degrees from the University of Maryland University College, Adelphi, MD: a Master of Science in Management: Naval Operations & National Security and a Master of Business Administration. He also earned an Executive Certificate in Cybersecurity from Harvard University, Cambridge, MA, and his Joint Professional Military Education from the Naval War College at Monterey, CA.
Zinga initially enlisted in October 2004 as a Seaman Recruit in the U.S Navy Reserve at Recruit Training Command, Great Lakes, IL, and was later promoted to Information Systems Technician Third Class Petty Officer at NOSC Bessemer, AL before accepting a Direct Commission as an Information Professional Officer in September 2007.
In October 2010, LTJG Zinga became a "plank owner" in the newly stood up Information Warfare Community, formerly known as the Information Dominance Corps. His assignments include N7 Training Department Head, Amphibious Squadron Four Detachment 409, NOSC Bessemer, AL; Executive Assistant, OSU, NOSC San Jose, CA; N7 Training and N1 Admin Department Head, Evolution Team Lead, OIC, Deputy Program Manager, and Program Manager for two national SPAWAR Reserve Programs, SPAWAR 220, NOSC San Jose, CA. In July 2018, LCDR Zinga was selected as the N1/N6 Department Head of NR COMPACFLT INTEL 0419, Camp Parks, CA, and later hand-selected as the XO and Chief Staff Officer of the same unit. In March 2021, CDR Select Zinga served as the N1 Department Head for NR COMPACFLT N6, San Diego, CA, before being APPLY-selected to assume command of NR C10F NNWC GNOSC, effective February 1, 2022, relieving CDR Christopher Phelps.
He is the recipient of the FY19 COMNAVIFORES National Junior Officer of the Year award. Personal awards include the Navy and Marine Corps Commendation Medal (two gold stars), Navy and Marine Corps Achievement Medal, Naval Reserve Meritorious Service Medal, National Defense Service Medal, Global War on Terrorism Military Outstanding Volunteer Service Medal, and the Armed Forces Service Medal.
CDR Zinga is the Head of Information Security at Directly Software, the leader in support automation, Silicon Valley, CA, where he lives with his wife Demetria, two daughters, and exuberant Shih Tzu.