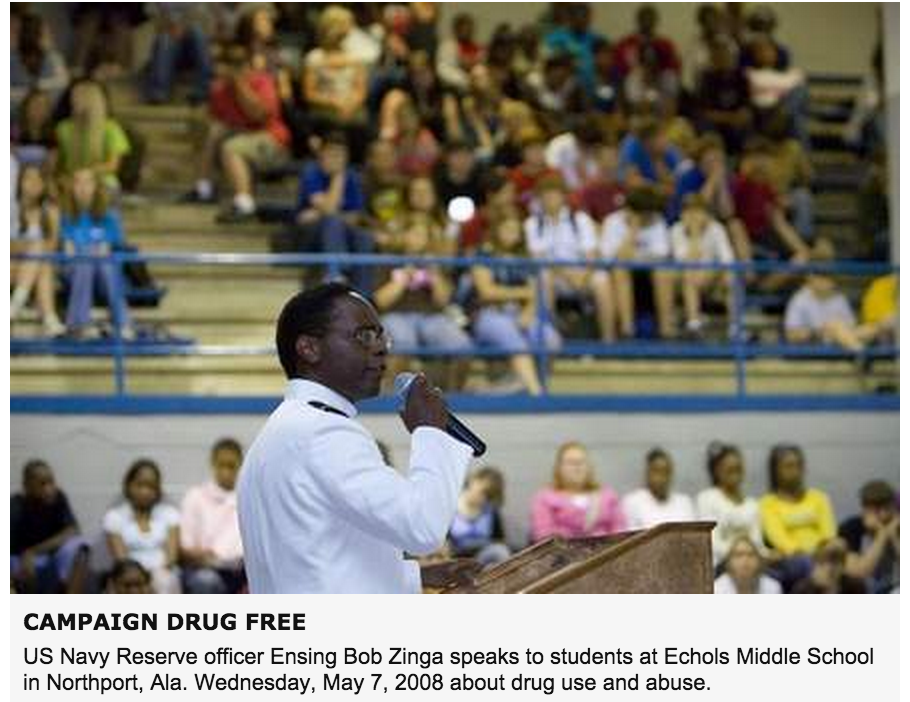 Navy Reserve Ensign Bob Zinga came to Alabama in 1996 after leaving his home in the Congo in Central Africa. For Zinga, whose mother brought him to the United States for college, education is everything.
'My mom wanted me to have the best education in the world,' he said. 'And it was here in the United States.'
Zinga wants students in West Alabama to appreciate their freedoms and educational opportunities just as he does. So at Echols Middle School on Wednesday, he and other local Navy reservists kicked off what will be a continuing program in local schools to keep students away from drugs.
Zinga, who speaks with a thick French accent that one student described as 'like a dude in the movies,' is assistant director for imaging and network administration at the University of Alabama when he is a civilian.
Wednesday he was in full Navy dress, keeping students on the straight and narrow.
'Millions of illegals try to get into this country every year. You know why? Freedom,' Zinga told the students. 'There's nothing like it. If you like your freedom, then stay away from drugs, because drugs will take your freedom away.'
Zinga and his peers soon had the students fired up, clapping and chanting 'freedom' and 'say no to drugs.'
Students Parker Montgomery, 12, and Lucas Webb, 13, said it was the best anti-drug program they had seen.
'They were serious and all of the others didn't seem as serious,' Parker said.
Webb agreed, and pointed out that many programs aimed at kids 'try to make it fun.'
'This was exciting,' Webb said. 'The other programs, they just kind of talked about drugs and it was kind of boring. But they got everybody excited.'
Source: http://www.tuscaloosanews.com/article/20080508/NEWS/654784410