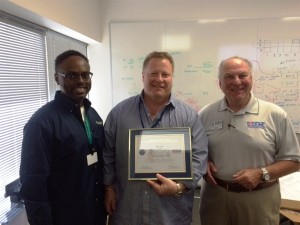 PALO ALTO, Calif. –Bob Vail, Director Information Security at Pivotal Software, was awarded the Patriotic Employer Award along with three other Patriot Award recipients including; Drew Kramer, Chris Curtis, and Ken Baylor, respectively. Pivotal Software, Inc. (Pivotal) is a software company based in San Francisco, California that provides software and services for the development of custom applications for data and analytics based on cloud computing technology. The Patriotic Employer Awards from the Office of the Secretary of Defense, Employer Support of the Guard and Reserve (ESGR), were presented at Pivotal on Oct. 14. California ESGR Volunteer, Lawrence Dietz, presented the awards.
Nominated by Lt. Bob F. Zinga U.S. Navy Reserve, Vail was recognized for his commitment and support of the employees of Pivotal who are members of the National Guard and Reserve.
An employee serving in the National Guard or Reserve, or the spouse of a Guard or Reserve member, may nominate individual supervisors and bosses for support provided directly to the nominating Service member and his or her family. The Patriot Award reflects the efforts made to support Citizen Warriors through a wide-range of measures including flexible schedules, time off prior to and after deployment, caring for families, and granting leaves of absence if needed.
Bob Vail is extremely honored and proud to support those employees who continue to serve their country as members of the Guard and Reserve. Both thanked ESGR, and LT Zinga for nominating them for this prestigious award.
Employer Support of the Guard and Reserve is a Department of Defense agency established in 1972 to develop and maintain employer support for Guard and Reserve service. ESGR advocates relevant initiatives, recognizes outstanding support, increases awareness of applicable laws, and resolves conflict between service members and employers. Paramount to ESGR's mission is encouraging employment of Guardsmen and Reservists who bring integrity, global perspective and proven leadership to the civilian workforce. For more information about ESGR Outreach Programs, or ESGR volunteer opportunities, please call 800-336-4590 or visit www.ESGR.mil.
Photo: left to right: Lt. Bob Zinga U.S. Navy Reserve, Bob Vail Director of Pivotal, Lawrence Dietz, ESGR volunteer.
Source: http://esgr.mil/News-Events/ESGR-In-The-News/articleType/ArticleView/articleId/3709/Pivotal-Software-supervisors-honored-by-Department-of-Defense-with-Patriotic-Employer-Awards.aspx