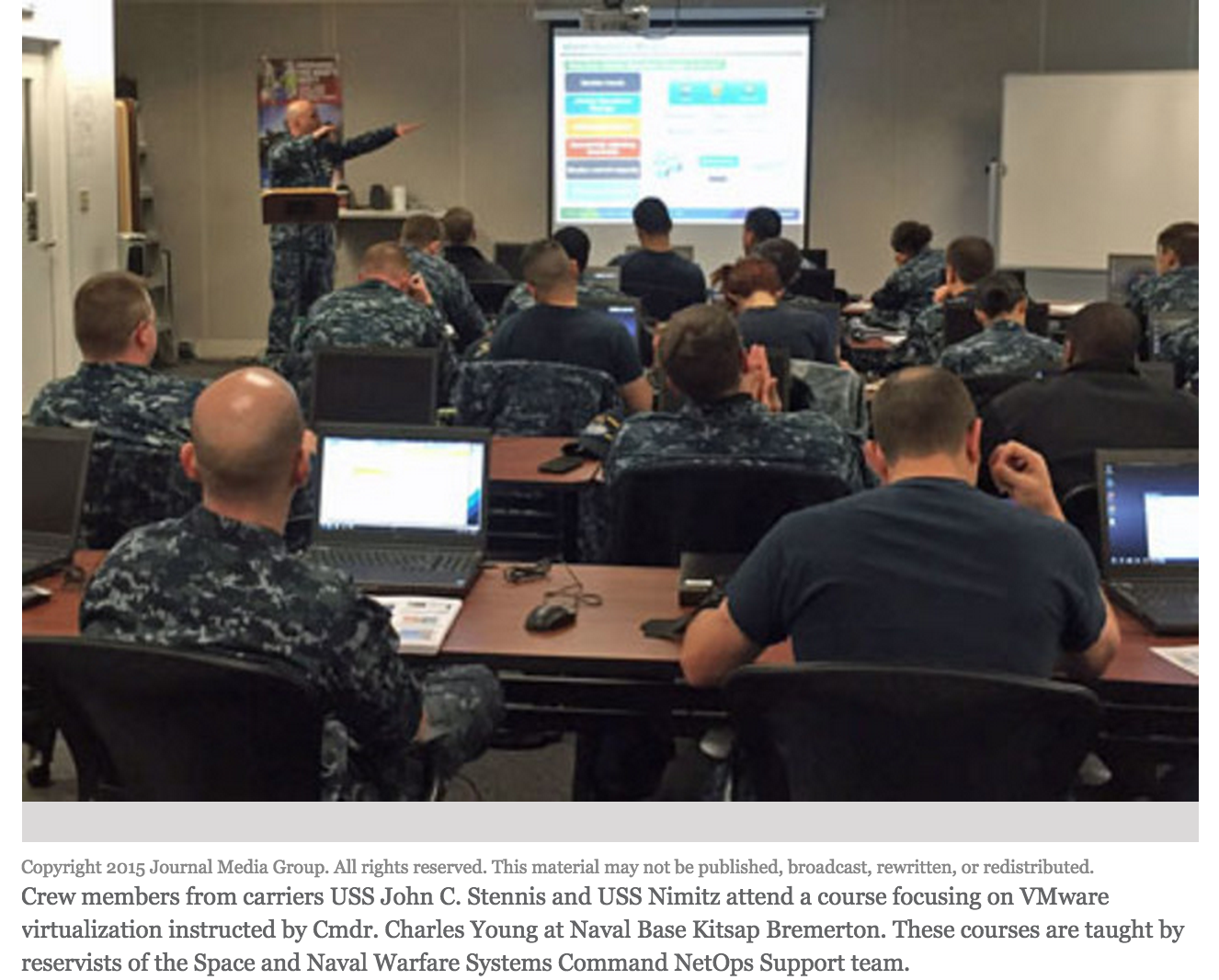 The Space and Naval Warfare Systems Command (SPAWAR) NetOps Support Team (NST) Fly-Away Team (FAT) Reserve component recently provided IT training support to the aircraft carriers USS Nimitz and USS John C. Stennis during a detachment to Naval Station Kitsap Bremerton. Training classes took place March 16-20.
The team provided classroom training in VMware virtualization. This was the first virtualization class in the NW region. This is significant as it is not being taught in a school house and sailors are already starting to work in IT virtualized environments. Virtualization enables users to access networked operating systems from a single or multiple stations. This system will help the Navy both reduce its cyber footprint and increase security.
"Ships have limited space for servers and virtualizing the cyber environment makes sense. We need to train the fleet on how to use software like VMware," said Cmdr. Eric Stoeckel, Naval Reserve SPAWAR detachment OIC. It saves money, saves space, consolidates hardware, and provides better security."
At the end of the class, those who pass the certification examinations are given a VCA certification for VMware.
The SPAWAR NST team included reservists attached to the SPAWAR Reserve Program at multiple sites across the country.
"The SPAWAR Reserve Program provides unique military and technical capabilities in support of team SPAWAR's mission, contingency response, and resolution of C4ISR issues that impact current and future fleet readiness," said Stoeckel. "The instructor team brings unique civilian experience to the fleet."
Source: http://www.kitsapsun.com/nwnavylife/team-brings-virtualization-expertise-to-carrier-personnel